Hospital and Medical Facility Construction - Detroit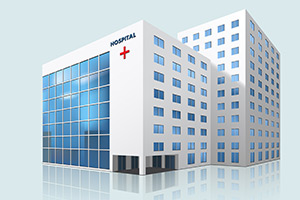 In order for your medical practice to grow and be successful, your facility must be inviting to potential patients and conducive to your everyday operations. If you need to update your commercial property, you must choose a general contractor who specializes in medical facility construction . At Wagensomer Construction, our Detroit commercial construction contractors have been assisting local doctors, dentists, chiropractors, and surgeons in this regard for many decades. We are the preeminent medical facility construction contractors in the area.
Throughout every stage of the planning and construction process, our professionals will work hand-in-hand with you to ensure that all of your functional and aesthetic needs and goals are accomplished. We are, first and foremost, an asset to all of our commercial customers. Our objective is to provide you with the medical facility construction services that will boost your productivity and profitability for years to come. Client satisfaction is always our highest priority.
If you want to hire a general contractor who will bring this dedication to excellence to task for you, call Wagensomer Construction, Inc., today. Our polite, professional, and knowledgeable staff would be happy to take your call, to answer any of your questions, and to schedule your consultation today.
Medical Facility Expansions in Detroit
More often than not, members of the medical community solicit our expertise when they need to expand their medical facilities. If your business is growing, your commercial property must grow alongside your efforts. You must expand your waiting room and office areas. You may need to construct new procedural and patient rooms. All the while, each of these additions must meet the rigid regulations in place. Additionally, if you are expanding, you may want to take the opportunity to add some energy efficient or sustainable features to your facility. At Wagensomer Construction, we are committed to helping you design a long-lasting and high-quality medical facility to meet the needs of your growing practice.
Perhaps rather than adding more space to your existing facility, you are looking to expand by opening up an additional facility in another location. Our team proudly serves Macomb, Wayne, Oakland, and Saint Clair counties in Michigan, and will be happy to work with you to design and construct a new medical facility in our region. We will work closely with you to make sure that your new facility offers the smartest layout and design for your needs. If you want your medical facility to be as inviting and functional as possible, trust Wagensomer Construction to make your aspirations into reality.
Our Detroit medical facility construction experts are here to assist you with the entire effort. On your own, it may be difficult to understand that best construction and expansion plans that will serve your interests well into the future. With our guidance, you will be able to glean critical information that we have acquired from countless projects as well as specific expertise in this area. You can feel confident knowing that your additions are the most sound investment.
Medical Facility Construction to Promote Your Business
Like any other business, your medical facility must be attractive and inviting to potential clients. Likewise, your property's interior must be comfortable, welcoming, and functional. Both the exterior and interior of your medical facility make a statement about your professionalism and the quality of your services. To ensure that your facility is making the best possible statement on your behalf, make informed, modern design and style choices during the planning phase. An appealing facade and welcoming interior can go a long way towards keeping your patients and attracting new ones.
If you need to update your property through a medical facility construction project, our Detroit general contractors are the best team for the job. With our help and guidance, every portion of your property will meet all your aesthetic and functional objectives. Potential and current clients will be more likely to solicit your help. Your business will be far better off well into the future.
New Hospital Construction
At Wagensomer Construction, we have the general contracting knowledge and experience necessary to complete construction on even major medical facilities. Something as important, large, and complex as a hospital requires the care and attention of qualified experts to ensure that no detail is overlooked. With over two decades of experience in commercial construction, our team at Wagensomer Construction is dedicated to putting our knowledge and expertise to work for you.
We are committed to doing our part to help local medical professionals provide the best healthcare possible, starting with the most up-to-date medical facility designs and technology. Due to the many types of medical care they provide their communities, hospitals, in particular, have to be designed to meet a variety of needs and standards. Furthermore, the way that your hospital is designed can have a lasting impact on how well your hospital performs. Issues from overcrowded emergency rooms to inefficient layout can impact hospital workflow and the quality of patient care. Building your medical facility to identify and prevent potential problems can go a long way toward a successful, intuitive design for your hospital. Above all, your hospital should be designed with superior healthcare service in mind. At Wagensomer Construction, we strive to use our skills and knowledge to support you in providing superior healthcare service to our community.
21st century hospitals are built with efficiency in mind. Energy efficiency and sustainability are important aspects of modern hospital construction. After all, a smart and sustainable approach to designing and constructing an hospital addition or new hospital can be a great way to improve patient care and hospital efficiency all while saving money on overhead operating costs. Incorporating the latest advancements in hospital design and technology will ensure that your hospital offers cutting edge care to each and every patient. Approaching your design from this perspective is a great way to ensure that your hospital excels no matter how you measure success. Whatever you have in mind for your Detroit hospital construction project, our professional commercial contractors will bring all of our experience, knowledge, and expertise to bear to help you turn your plans into reality
At Wagensomer Construction, we always strive for total customer satisfaction. From the first time you contact us until the day your medical facility construction project has been completed, we aim to exceed your expectations. As local leaders in commercial construction, we have built our reputation on our excellent customer service and superior construction services. We want to help you expertly design and build your newest medical facility. Whether you are planning to build a simple clinic or something as complex as a hospital, we've got you covered!
If you are planning a medical facilities construction project, contact our expert team today to take the first step towards making your plans a reality. Whether you are looking to grow your existing practice, build a new clinic, or even construct a hospital, we will put our decades of knowledge and experience to work for you. It will always be our first priority to exceed your expectations every step of the way, so give us a call today!
Recent Articles
Remodeling your Boston commercial retail business now will give you a competitive edge when the Christmas shopping season arrives. Whether you own commercial retail space for your own products or you rent the space out to retailers, now is the time to remodel before the shopping season turns into a mad frenzy. Here are some of the benefits to remodeling your commercial business this Fall… Read More

If you have been planning a commercial construction project, you should know that the most important part of the effort is choosing the right contractor or contractors for the job. You need to find a professional who values open and honest communication… Read More
If you need to hire a professionally licensed commercial construction contractor for construction of medical facilities, call Wagensomer Construction, Inc., today at 313-585-3166, or fill out our online request form.