Detroit Strip Mall Construction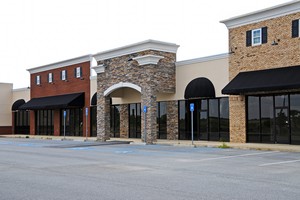 Whether you plan to build a small strip mall, a standard shopping center, or a power center, the design and construction are vital to the success of your venture. If you are a commercial real estate firm, investor, or leasing agent who is looking for an inline strip mall general contractor in the Metro Detroit, Oakland County, or Macomb County area, you'll want our excellent general contractor services at Wagensomer Construction. In-line strip mall construction is a specialty service that we have provided since 1992.
Commercial shopping centers are constructed for clients to sell lease space to all types of retailers. As an investor or leasing agent, the in-line design plan will be unique to your particular goals for leasing out space in your strip mall. With the help of our experienced project managers and the rest of our crew, all your construction goals will be realized.
Wagensomer Construction is a full-service general contractor, so we have access to some of the best Detroit architects, designers, and engineers to help plan your project. We have been working with local subcontractors for decades and have been able to build a trusting partnership with those who provide superior quality, reliable workmanship.
Custom Design & Build Strip Mall Construction
Taking on a strip mall construction project will involve a lot of details that need to be carefully planned. The goal of every strip mall is to offer consumers a convenient, pleasurable shopping experience. In-line store construction is a great way to build a shopping center that reaches certain diverse retail markets. These retail centers offer an easy one-stop shopping experience for customers which attracts frequent traffic for business owners.
At Wagensomer Construction, we offer a customized design that is tailor-made to suit your strip mall leasing goals. We have worked with local Detroit leasing agents time and again to design and build the perfect commercial building which develops a foundation of success. Our project managers, designers, architects, and all the members of our commercial construction crew are dedicated to meeting the goals of every client.
One of the most important aspects of a successful strip mall design is to make the place welcoming, inviting, and multifunctional. The in-line construction model makes the retail space easy to access and highly functional, but the buildings often look the same. Retail design is a creative process that involves several areas of expertise which combines the architectural design and functionality of the space. With a good design and quality construction, your strip mall will be highly functional, modern, and amazing. Let us deliver a custom design solution for your new strip mall construction today.
Our Expert Strip Mall Construction Crew
Our expert Metro Detroit commercial construction contractors are dedicated to each and every aspect of your strip mall project. Wagensomer Construction ensures that you receive the high-quality workmanship you expect from an experienced general contractor like us. We take pride in being able to complete the construction within the required timeline, which can only happen with an experienced crew. Every aspect of the project is carefully managed to ensure there are no problems with national or local code compliance regulations.
Your Premier Commercial Construction Contractors In Metro Detroit
Wagensomer Construction takes pride in the trust that we have been able to develop with local business owners since 1992. At our company, we are all about being reliable, communicative, considerate, and professional. Our goal is to ensure your complete satisfaction with the results we are able to accomplish. We are fully insured, licensed, and highly skilled in all phases of new commercial construction. Our construction contractors care about the quality of the work they do. Every aspect of the project is fully supervised and managed.
Let's work together today to develop the right plan for your shopping center or in-line strip mall. We will strive to help you create the attractive, thriving, and successful retail center that Metro Detroit consumers love to frequent.
Recent Articles
Remodeling your Boston commercial retail business now will give you a competitive edge when the Christmas shopping season arrives. Whether you own commercial retail space for your own products or you rent the space out to retailers, now is the time to remodel before the shopping season turns into a mad frenzy. Here are some of the benefits to remodeling your commercial business this Fall… Read More

If you have been planning a commercial construction project, you should know that the most important part of the effort is choosing the right contractor or contractors for the job. You need to find a professional who values open and honest communication… Read More
For quality, reliable Strip Mall Construction Company in Metro Detroit, Oakland County, or Macomb County, call Wagensomer Construction at 313-585-3166 for a consultation today. If you prefer, feel free to fill out our online request form.